Home
Tactic #203 - Enable the possibility to checkout as a guest, without needing to create an account
Description
Your customers will appreciate having the choice of when to register on your website as this induces the positive feeling of having the autonomy to influence the purchasing process. T
his also gives them the option of speeding up the entire payment process as research has shown that people associate negative emotions with spending money and can be put off from completing a purchase very easily. Giving them the option to make the payment process as quick and easy as possible will help ensure it is more often completed.
Principles
Autonomy bias (Deci, 1971; Ryan, 2008)
Pain of Paying (Prelec & Loewenstein, 1998)
The Research
Autonomy bias

The Autonomy bias is part of the Self-determination theory, studied by Deci (1971) and Ryan (2008), which explores the degree to which an individual's behaviour is self-motivated. Autonomy bias is our universal and innate need to be agents of our own lives. We have a need to make our own choices and to have the ability to implement these choices by our own free will. This may include deciding what we do, how we do it, when we do it and where we do it. A high level of perceived autonomy comes with feelings of certainty, reduced stress and a high level of 'intrinsic motivation'. This increases the likelihood of persistent behaviour. We especially don't like to feel coerced: it undermines this intrinsic motivation and we become less interested in doing something.
Studies have shown that restrictions on our autonomy lead to dissatisfaction. For example, one study revealed that the greatest source of dissatisfaction amongst doctors wasn't having to deal with insurance companies or the piles of paperwork but instead a lack of control over their daily schedules. Studies also show that even altruistic actions (normally shown to increase positivity and well-being) will fail to produce these positive feelings when they're coerced.
Autonomy bias has applications in management and marketing as a tool for motivating employees or customers to get the best response and engagement from them by knowing when and how best to award them autonomy.
Pain of Paying

The Pain of Paying principle, first explored by Prelec & Loewenstein in 1998, explains the psychological link between payment and pleasure (or lack thereof) for the experience or product you are paying for. The simple fact is that people don't like to part with their money and so making payment can reduce the pleasure taken from making a purchase. It has been proven that spending money actually activates the areas in our brain that are associated with physical pain and feelings of disgust.
Therefore, the more strongly we feel this "pain of paying" when we spend money for something, the less we will enjoy it and it can affect our decisions to make purchases. Studies have shown that certain forms of payment hurt more than others: the more evident, tangible or transparent the payment is, the less we are able to enjoy the pleasure of our purchase. We feel this "pain of paying" less when we pay by credit card or when there is a gap between paying and the time of receiving or using the purchase. Inversely, we feel it more when we have to pay for something immediately or by cash as it really draws attention to the amount that something is costing us.
Automatic payment systems available for online purchases are an example of one way in which some brands are trying to reduce the pain of paying in order to therefore make more sales. Registering your customers' payment details is an effective way of limiting the feeling of making payment and encouraging more purchases. For example, when you buy music or a movie on iTunes, there is no mention of the fact that you are paying, you simply click on the "download" button and, as your bank details are already registered, payment is automatic and therefore less visible and tangible.
Browse more Persuasive tactics in signup category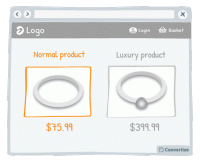 To make your higher-end products seem even more attractive, display them alongside your lower-end products so that customers can compare the two together. The difference in quality will be larger and …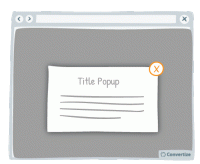 Ensure you give your customer the power to close any pop-ups or other boxes on your site. Showing an immediately recognisable cross in the top-right of all boxes will allow customers to easily close them…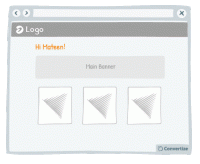 Your customer will feel more involved in and connected with your content if you make use of their name to give it a personalised touch. A natural tendency we experience is "implicit egotism&quot…
Browse tactics by

categories
Browse tactics by

type of website
Browse tactics by

page type
Browse tactics by

definitions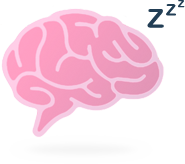 Oups, you have reached your limit of 2 free tactics per hour
To get unlimited access to our 250+ tactics,
Sign Up for FREE to Convertize.io
Or take break for 00:59:59